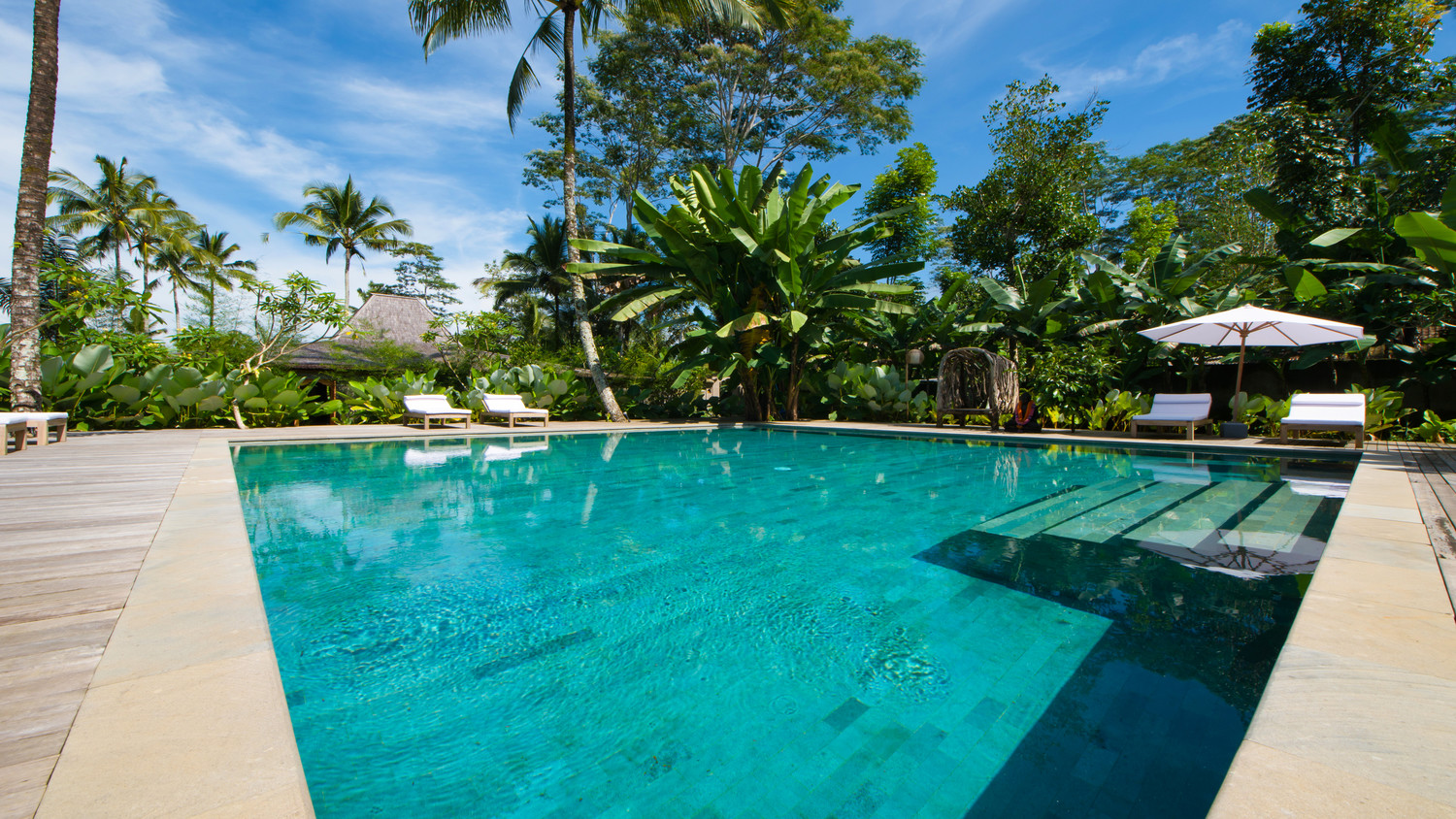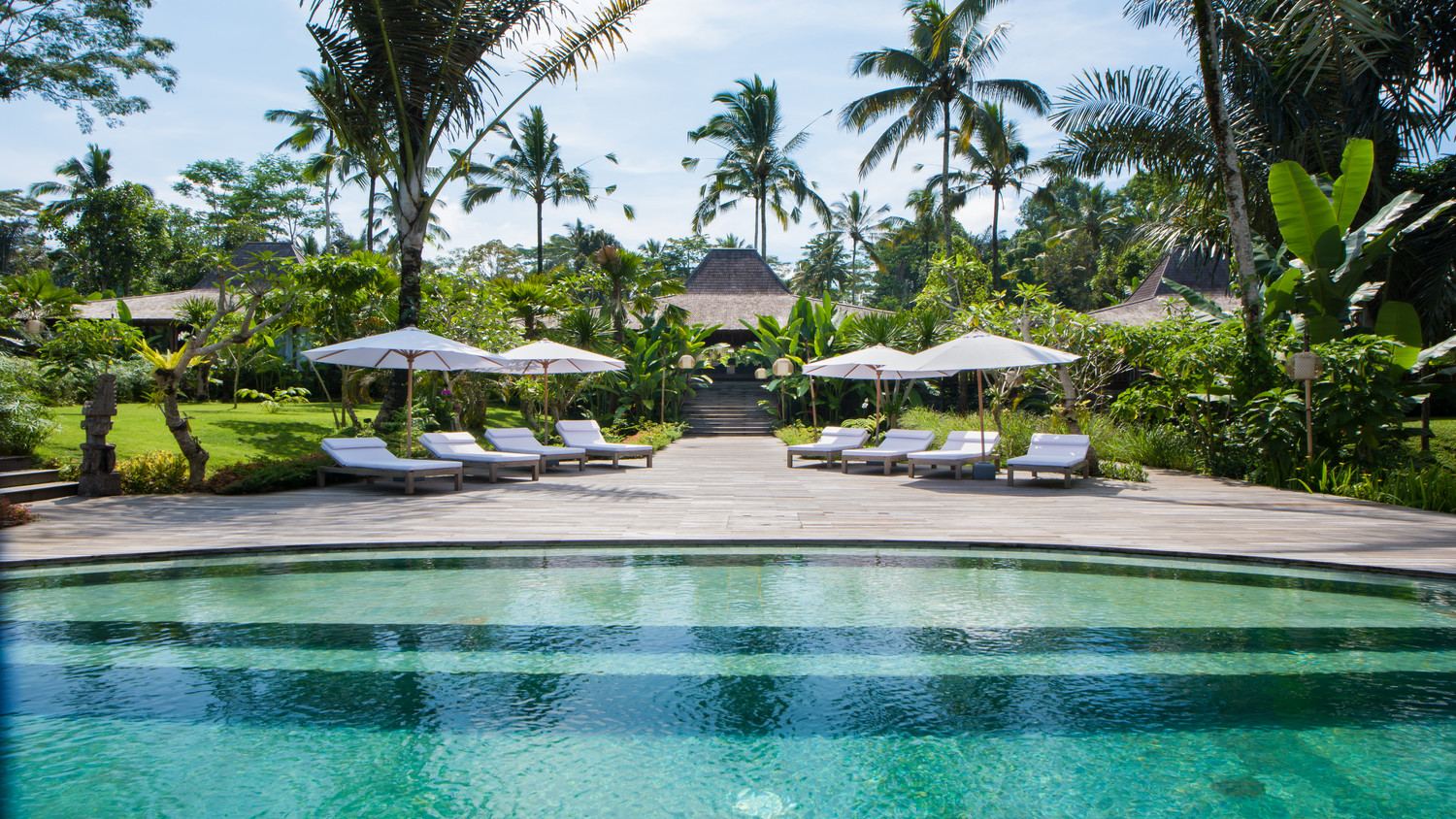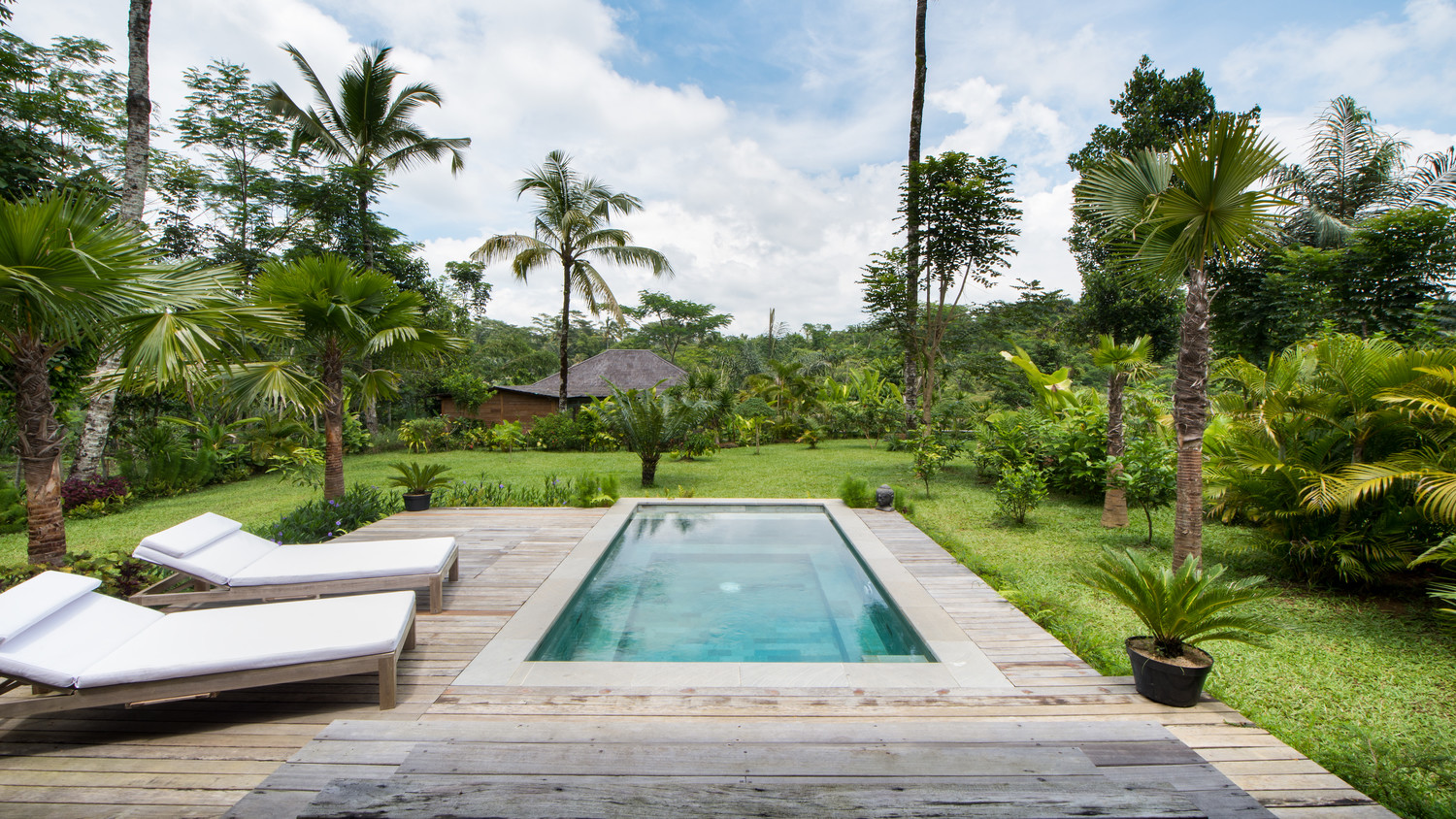 About Villa Nag Shampa
Tucked 25-minutes away from the city centers of Ubud, Villa Nag Shampa is a hidden gem to say the very least! Completely silenced out from the noise of traffic, guests are spoiled with sounds of bustling leaves against the easy breeze. The 8-bedroom haven is dispersed across 8 pavilions and an endless lot of land allowing guests to live at absolute large! 5 private pools, a complete floor designated for yoga and another pavilion decked out in spa facilities can be found.
Pool & Outdoor Area
Multiple private pools are nestled amidst the lush forests of the meditative Taro village. As its aquamarine waters glisten, wooden decking match its unitarily primitive appeal. Each pool meets sunloungers, poolside umbrellas and luscious greens. Varying in size, several pools are 6x3, another is 10x10 whilst the focal lagoon-shaped swimming area is a whopping 42 x 28 metres!
The lagoon-shaped swimming pool surrounds an alfresco yoga pavilion. Hints of lime green embellishments meet the stone-sculpture of a Hindu goddess. The setting is adorned in off-white chiffon fabric hung around wooden pillars, swiftly gliding as the wind blows. 16 bright-white sunloungers accompany the wooden decking.
Indoor Living Areas
A larger living area is placed as the focal point of a central pavilion - the open-air space is decked out in 3 plush gray-silver sofas, generous amounts of cushions, a low-lying coffee table, two working desks and a couple of chests. All of which are located under an immaculately carved and chiseled wooden ceiling. A separate day-lounger, a stretched-wooden sofa, a gigantic moose sculpture, multiple stone art-pieces and contrastingly black lamps can be found tucked within the space.
The living area extends a pathway towards the formal dining room, hosting 14 comfortably within one long teak table. Accompanying it are contemporary white dining chairs placed underneath the intricately carved ceiling and teal lamps. An array of stone sculptures adorn the alfresco space.
The in-house spa floor is decked out in furnishings that will render guests speechless! With wooden frames and curtains as walls, massage rooms, a dressing area and a couple of seating arrangements are designed to fit well in the space.
Bed & Bathrooms
Across 8 pavilions, 8-ensuite king-sized bedrooms are located. It is complete with traditional teak flooring, a carefully thawed Cogon-grass roof, and its own terrace balcony to view the stunning panorama. Wrapped in pure white drapes, air-conditioning and ceiling fan facilities to cool the hottest tropical day. Nonetheless short of primitively extravagant, immaculate rugs, in-room seating arrangements, and floor-to-ceiling glass sliding doors are included. The spacious, dimly-lit en-suite bathrooms feature sunken stone bath, twin vanities, and rain-shower facilities.
Staff & Services
A 24-person team staff is ready to spoil guests of Villa Nag Shampa with five-star help. A villa manager and assistant manager, a private chef, villa attendants, gardeners, a pool attendant, and 24 hour security guards, guests will not need to worry about keeping the mansion at tip-top shape! A small extra charge is added if masseuse and babysitters are requested.
Around Villa Nag Shampa
Tucked far away from the hustle and bustle of the city centers, the villa neighbours only temples and the beautifully sculptured
rice terraces of Tegalalang
. Offering plenty of naturesque, Instagram-worthy sights, the villa nonetheless equips guests with rental cars to take you around.
Fine dine at the French
Cascades Restaurant
, or perhaps go
White-Water Rafting
through a 14 km journey at the Telaga Waja River. Spa-hop to
Amandari Spa Ubud
to have a session of detoxifying body scrub, followed by a herbal or milk bath. Before the sun sets, don't forget to visit playful monkeys and watch the traditional Kecak fire dance performed at the neighbouring
Tanah Lot temple
.
Click here to see all 106 villa pictures
Here are our availabilities for the next few months:
Villa Nag Shampa is exclusively marketed by Villa Finder, we handle all the reservations. Here are the official direct listings:
Minimum stay
5 bedrooms
6 bedrooms
7 bedrooms
8 bedrooms
from 17/01/2018 to 15/02/2018
Low season
3 nights

USD $

2,000

USD $

2,000

USD $

2,000

USD $

2,000

from 15/02/2018 to 22/02/2018
High season
5 nights

USD $

2,600

USD $

2,600

USD $

2,600

USD $

2,600

from 22/02/2018 to 27/03/2018
Low season
3 nights

USD $

2,000

USD $

2,000

USD $

2,000

USD $

2,000

from 27/03/2018 to 04/04/2018
High season
5 nights

USD $

2,600

USD $

2,600

USD $

2,600

USD $

2,600

from 04/04/2018 to 01/06/2018
Low season
3 nights

USD $

2,000

USD $

2,000

USD $

2,000

USD $

2,000

from 01/06/2018 to 01/07/2018
Mid-high season
3 nights

USD $

2,200

USD $

2,200

USD $

2,200

USD $

2,200

from 01/07/2018 to 01/09/2018
High season
5 nights

USD $

2,600

USD $

2,600

USD $

2,600

USD $

2,600

from 01/09/2018 to 01/10/2018
Mid-high season
3 nights

USD $

2,200

USD $

2,200

USD $

2,200

USD $

2,200

from 01/10/2018 to 20/12/2018
Low season
3 nights

USD $

2,000

USD $

2,000

USD $

2,000

USD $

2,000

from 20/12/2018 to 11/01/2019
Peak season
7 nights

USD $

3,000

USD $

3,000

USD $

3,000

USD $

3,000

from 11/01/2019 to 01/06/2019
Low season
3 nights

USD $

2,000

USD $

2,000

USD $

2,000

USD $

2,000